PAST EVENTS
Frost Fair
Sat, December 3, 10 a.m.–4 p.m., Fort York National Historic Site, 250 Fort York Blvd (Toronto): A chance to stroll through historic buildings with merchants selling heritage-inspired products and reproduction pieces. CHC was in attendance with food samples, recipes and cookbooks for sale. Admission: Regular admission to Fort York.
Thu, November 10, 2:30 to 3 and 3:30 to 4 p.m p.m., Enercare Centre, Exhibition Place, 100 Princes' Blvd (Toronto): Our annual Remembrance Day appearance on the Burnbrae Farms Food & Lifestyle Stage; this year the theme is the Home Front during World War Two. Also, the winners of the Heritage Preserving Competition, sponsored by CHC, will be on display at the Fair, which runs from November 4 to 13. Admission: $16 to $25. Family pass: $56
Monday, November 14, 5:30–10:30 p.m., Arcadian Court, 401 Bay St, 8th floor (Toronto): The CHC is once again sponsoring the Taste Canada Hall of Fame Awards / Le Temple de la Renommée Les Saveurs du Canada. There are two annual Hall of Fame Awards: one to recognize current living authors and the other for authors deserving of posthumous appreciation. Come to the Taste Canada Awards Gala to celebrate this year's inductees! Admission: $60 to $125
Saturday, October 15, 2016: Annual General Meeting, 1 p.m. to 3:15 p.m., Campbell House, 160 Queen Street West, Toronto, at University Avenue (Osgoode TTC), featuring speaker Jasmine Mangalaseril, election of officers and awarding of Honorary Lifetime Memberships to Dorothy Duncan and Elizabeth Driver, plus special recognition and an award to Fiona Lucas for long service to the organization.
Tuesday, August 9, 2016: Lost Breweries of Toronto, 7 to 9 p.m.: Jordan St.John, the leading expert on the history of brewing in Ontario and author of the books Ontario Beer and Lost Breweries of Toronto, spoke about Toronto's brewing history in the auditorium at the Ralph Thornton Centre at 765 Queen Street East (Toronto). He discussed the beers that defined various eras of Toronto's history: both those that were brewed in Toronto and those available from the 1750s onward.Two beers were sampled during the presentation: Black Oak Nut Brown Ale from Etobocoke's Black Oak Brewing Co. and Waterloo 1815, a special beer Jordan made with Innocente Brewing Company in Waterloo (Ontario). It's a farmhouse-style beer, in honour of the farmhouse called La Haye Sainte, which was of strategic importance during the Battle of Waterloo (Belgium).
July 11, 2016: Melon: A Global History, 7 to 9 p.m.: Museum Morsels Heritage Culinary Club at Parkwood Estate and the CHC presented author and culinary historian Sylvia Lovegren chatting about the history of melon and her book, Melon, A Global History, at Parkwood Estate in Oshawa.
March 15, 2016: Victualling Nelson's Navy: Food and Cooking on the High Seas in the Age of the Napoleonic Wars, 7 p.m. at The Naval Club of Toronto, 1910 Gerrard St. E. (in the Beaches, west of Woodbine). The Culinary Historians of Canada presented author, chef, and naval re-enactor Gurth Pretty in a fascinating talk – and hands-on demonstration – on just how Vice Admiral Horatio Lord Nelson managed to feed the equivalent of roughly 5,000 calories a day to thousand upon thousands of hungry sailors! Gurth M. Pretty is a graduate of both George Brown College's culinary management diploma and of Toronto's Cheese Education Guild's cheese certified programme, he worked as a professional chef in Toronto, Atlanta, Dallas, Paris, Brussels, Dublin and Nuremberg, sharing his love of Canadian cuisine. He authored The Definitive Guide to Canadian Artisanal & Fine Cheese (Whitecap 2006), co-authored with Tony Aspler The Definitive Canadian Wine & Cheese Cookbook (Whitecap 2007) and contributed to the World Book of Cheese (DK Books 2009). He is currently the Senior Category Manager – Special Projects for Deli Cheese for Loblaw Companies Limited.
Mad for Marmalade, Crazy for Citrusy 2016
Saturday, Febryary 20, at Fort York National Historic Site, in association with the Aga Kahn Museum: "Citrus in the Persian Kitchen" was the theme for the 9th annual Mad for Marmalade, Crazy for Citrus. For complete information download the 2016 Programme Flyer (pdf)
November 2015
"Cooking from Rare Books"
 Thomas Fisher Rare Book's Holiday Food Talk, Tour & Tasting
Did you know that since April 2015 Thomas Fisher Rare Library has been featuring on Instagram some items from their growing collection of material on food, nutrition, cookery and household management? On Tuesday November 24th, 2015, a memorable and intimate evening has been organized as the Thomas Fisher Rare Library stays open late for this event with Culinary Historians of Canada to kick-off the holiday season! Experience a unique talk by Elizabeth Ridolfo, Rare Book Librarian at the Thomas Fisher Library, as she highlights their historical cookbook collection, and participate in special curated tours. During the Reception, savour surprise treats recreated by CHC volunteers from historical recipes selected from their books. Because of the nature of the materials, this event is limited to a small number of guests.
Capacity: Event is limited to 25 spots. Avoid being disappointed, and get your tickets soon as we anticipate a sold out event! Thomas Fisher Rare Book Library was the Winner of the #BestLibrary Award in NOW Toronto Magazine's Best of Toronto 2014 Reader's Choice and at press time, they were nominated in the 2015 #BestLibrary category!
When: Tuesday November 24th, 2015,  6:00 – 8:00 pm
6:00-6:25pm Check-in all items into lockers, Registration & Networking/Socializing
6:30-7:15pm Talk by Fisher staff
7:15-7:30 pm Reception & tasting(s)
7:30 – 8:00pm Curated Tours
Where: Thomas Fisher Rare Book Library, 120 St George St. Toronto, Ontario.
How: Fees (Talk, Curated Tour & Specially arranged tasting)
Non-Member $25.00
CHC Member $15.00
Student (ID only) $10.00
Should you have any questions please contact shirley@culinaryhistorians.ca. Please use the link below to order tickets. (image credit Sarah Hood & Shirley Lum)
CHC at the Royal
The CHC is again sponsoring the Historical Jam and Pickle Category at this year's Royal Agricultural Winter Fair Jam's Jellies and Pickling Competition. Recipes must be 50 years or older and must accompany submission, which are due by September 28th, 2015. More information from the Competition Book (pdf).
Join the CHC for this our 2nd year at the Royal Agricultural Winter Fair. This year we'll explore the theme of "Entertaining in the 1920's" with cooking demonstrations, tastings, and plenty more.
As always we're looking for volunteers to help out prior and during the event, if you'd like to get involved please contact Luisa Giacometti (luisa@culinaryhistorians.ca).
When: November 11th, 2015. Demonstrations at 11:15am to 11:45am & 2:00pm to 2:30pm.
Where: Burnbrae Farms Food and Lifestyle Stage, Direct Energy Centre, CNE, Toronto, Ontario.
October 2015
The History of Beer in Canada
Just in time for Octoberfest join the CHC on October 4th for a day of beer filled fun in the Waterloo region!
First we visit BEER! The Exhibit at the Waterloo Regional Museum. Discover the history of brewing, and the selling and consuming of beer in Canada, with a focus on over 175 years of brewing tradition in Waterloo Region. Learn how beer is made, the impact Prohibition had on the brewing industry, and the evolution of craft breweries. From public houses to bars, Temperance societies to drinking responsibly – explore the cultural and social influences of beer.
Then enjoy a 3-course lunch at 1 pm at DH Food & Lodging a refurbished 1852 inn nestled in the village of St. Jacobs serving casual contemporary cuisine.
 MENU
Market soup, Mixed greens salad with orange-saffron dressing
Glazed Atlantic salmon, Schnitzel with sauerkraut, Chicken breast stuffed with prosciutto and swiss, Penne with chèvre
Dutch apple pie, Triple chocolate mousse cake
Finally it's on to Block Three Brewing Co. at 2:30 pm next door for a brewery tour and tasting! Block Three Brewing Co. is a new craft microbrewery in Waterloo region. Opened in 2013, the brewery specializes in strong Belgian style ales.
When: October 4th, 2015.
Where: Waterloo Regional Museum (10 Huron St, Kitchener), DH Food & Lodgings (1430 King Street North, St. Jacobs),
How: Use the Eventbrite page below to purchase tickets, $40 for CHC members, $45 for general admission. For event enquiries contact Judy Chow (jychow@rogers.com), to offer or request a carpool spot contact Luisa Giacometti (luisa@culinaryhistorians.ca).
Help promote this event by circulating the CHC Day of Beer flyer (pdf).
(image credit: wikkicommons)
September 2015
AGM
CHC members please join us at Spadina Museum for our annual general meeting, tour of the museum and refreshments. A great chance to become further involved in the CHC and to meet board members and others that share your interest in culinary history. To nominate someone to vote in your stead print and complete the proxy form below.
When: September 12th, 9:15 to 12:00pm.
Where: 285 Spadina rd, Toronto, Ontario.
2015 AGM Notice (pdf)
2015 AGM Agenda (pdf)
2015 AGM CHC Proxy Form (pdf)
CHC_2015_Member Application (pdf)
August 2015
Farm Visit
Join the Culinary Historians of Canada for a farm visit to a members dairy farm on Saturday, August 1, 2015.  We will meet at 10:00 am and view the milking  process. At noon we go to the Spirit Tree Estate Cidery; a cidery, bakery, kitchen and farm store nestled among the rolling Caledon Hills, for lunch.
Lunch includes:
Homemade soup of the day
Platter of half sandwiches (seasonal choices) made on Spirit Tree Artisanal bread
(sample choices: Chicken Pesto & Brie, Roasted Vegetable, Ham & Smoked Cheddar)
Seasonal side salad (family style)
A selection of pastries, scones & cookies
Coffee, tea or sweet cider
After lunch we will have a More Spirited Tour which includes a tour of the Cidery and tasting of 3 of the ciders highlighting the different styles that are produced as well as tasting their artisan bread.  Then back to another farm nearby to learn about beef cows.
When: Saturday August 1st, 2015. 10am to 4pm.
Where: The dairy farm is located at 13069 Heritage Road  – from Toronto take the 401 to Mississauga Rd (#336).  Go to Old School Red and turn left on Old School Rd and just before Heritage Rd turn right down a long driveway.  There will be a sign letting you know when you have arrived!
For your reference the following addresses:
Spirit Tree Cidery: 1137 Boston Mills Road
Beef Farm: 15077 Creditview Road
July 2015
Picnic in Prince Edward County
(Please note that this is an RSVP event and is ONLY open to current CHC members, their family and friends)
This is a potluck gathering of CHC members, their family and friends at Liz
Driver's 1860 farm near Milford, Prince Edward County. Please RSVP to
liz.driver@sympatico.ca by July 13 (earlier if possible!). Let Liz know
whether you will be bringing a main course or dessert. She will send you the
address and directions for arriving by car. Please bring serving implements
if needed for your dish.
Liz will provide beverages (wine and soft drinks) and everything else that
is needed (plates, glasses, cutlery, serviettes, etc).
If you are able to drive other members or need a lift, please contact Luisa
Giacometti (luisa@culinaryhistorians.ca), who is organizing carpooling to the picnic.
When: Sunday, July 19, noon to 4 pm
Where: Milford, Prince Edwards County, Ontario.
How: Direct any questions and RSVP to Liz Driver (liz.driver@sympatico.ca) by July 13th at the latest. If you need a ride, have space for passengers, or wish to carpool for fun and the environment please contact Luisa Giacometti (luisa@culinaryhistorians.ca).
(image of previous picnic courtesy of Liz Driver)
May 2015
Lost Chinatown Food Tour, Lunch, and Hands-on Demo
Culinary Historians of Canada and A Taste of the World Walks present a unique event on Sunday, May 31 to celebrate Asian Heritage Month.
This special food walking tour includes a hosted dim sum lunch, a talk and hands on demonstration of sticky rice dumplings, a festive food connected with the upcoming Dragon Boat Festival.
The seeds of Toronto's first Chinatown were planted in 1878 and uprooted several times before landing at its current Spadina/Dundas location. As we stroll down memory lane with CHC member Shirley Lum, we'll look at archival maps and photographs from the 1920s, 1930s and 1990s of the old quarters' food scene while hearing historical and personal stories about legendary locals, chop suey eateries, bakeries, and dim sum houses to help bring the area alive again.
For added nostalgia we will drop into the oldest family-run dim sum restaurant for 'Low-Wah Kew" dim sum (AKA old-timers' dim sum), complete with a Chinese Horoscope reading to reveal your animal sign and show you how to get the most out of the Year of the Goat! We end with Shirley talking about the history and legend behind the lively Dragon Boat Festival, and a hands on demo of the special sticky rice dumplings made for this lively event.
When: May 31st, 2014. 10:50am to 2:30pm.
Where: Meet at 60 Queen St West, Toronto, at 10:50am. Tour runs from 11:00am to 2:30pm. (Closest subway is Queen Station.)
Tickets: Use the Eventbrite link below to purchase tickets immediately or contact Shirley Lum at 416-923-6813 or info@torontowalksbikes.com to reserve. Admission: $50 (general), $45 (CHC members), $40 (students with ID).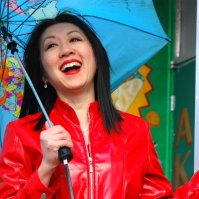 Shirley Lum is a frequent guest on CBC Radio's Metro Morning and Fresh Air who contributes feature articles to The Globe & Mail, Toronto Star, National Post and Tornoto Sun. She has been honing her research of Toronto's lost first Chinatown since she established her business, A Taste of the World Tours, in 1993. She's a fourth-generation Canadian-born Chinese, born and bred in Toronto.
April 2015
History of Vegetarianism in Toronto
Toronto is a thriving veggietropolis today, but what was the city's veg scene like 100 years ago? Who were the community leaders and culinary innovators that propelled vegetarian food and ideas into the city's consciousness? Find out as we explore the roots of Toronto's veg community and learn how Toronto became home to almost a hundred innovative vegetarian and vegan businesses and North America's largest Veg Food Fest.
David Alexander is the Executive Director of the Toronto Vegetarian Association and will be speaking about the history of vegetarianism in Toronto. David has appeared on CBC Radio, CTV, and Global TV promoting the health and environmental benefits of vegetarian eating. His essay "The Tofu Revolution: Toronto's Vegetarians from 1945 to 2009 and Beyond" appears in The Edible City, published by Coach House Books.
Since joining the TVA in 2006, David has worked with volunteers and staff to introduce new projects such as the Tofu Haiku poetry contest, Veggielicious, and Totally Fabulous Vegan Bake-off. David's work enabled the association to meet the goals of a three-year Trillium Foundation grant for volunteer program development and has led the organization to be recognized as a finalist for a Green Toronto Award for Environmental Awareness in 2011. In 2014, he worked with Leo Burnett Toronto to rebrand the Veg Food Fest and a team of volunteers to present the VegTOpia exhibit, which celebrated TVA's history at the 30th Veg Food Fest.
The event will be held at YamChops, Canada's first and only vegetarian butcher shop, offering plant-based protein alternatives, fresh prepared foods and eat-in or take-out lunch and dinner. They have a full vegetarian and vegan grocery, AuJus organic cold pressed juices, catering, and home delivery. The folks at Yamchops will give us a short tour of their facility after the talk.
When: April 28th, 2015, 7:00pm
Where: Yamchops Vegetarian Butcher, 705 College St (@ Montrose Ave) (MAP HERE)
Cost: $15.00 CHC members and Toronto Vegetarian Association members (with proof), $18. non-members and $5.00 students (with Student ID).
February 2015
8th Annual "Mad for Marmalade, Crazy for Citrus!"
Mad for Marmalade program 2015 (designed by Mark D'Aguilar)
November 2014
AGM
The CHC's 20th Annual General Meeting
The Culinary Historians of Canada is now 20 years old! We're holding a party to celebrate, with a slide show about the last 20 years with CHC, an overview of the extraordinary jump in the popularity of food history, and some simple down-hearth cooking.
Location: Campbell House Museum (160 Queen Street W, Toronto, 416-597-0227)
Date and Time: Sunday, November 30, (AGM: 3:30 p.m. Party: 4 to 5:30  p.m.)
CHC 20th Anniversary Party and AGM!
August 2014
Picnic in Prince Edward County
Details: Held in scenic Prince Edward County, just over 2 hours from Toronto CHC members will enjoy a potluck lunch (wine and non-alcoholic beverages provided) at a 100-acre Cultural Heritage Landscape farm property in beautiful Prince Edward County with an 1860 brick farmhouse, early barn and other outbuildings. New features since the last CHC visit are a 1905 Royal Jewel wood-fired cookstove and a new extension with modern waterworks to augment the traditional outhouse!This event is free with a potluck contribution. Please RSVP to Liz Driver (liz.driver@sympatico.ca) to let her know what you will be contributing to the potluck. She will reply with a map and driving directions.
Date: Sunday August 24th, 2014.
Time: noon onwards.
(Note that this event is only open to CHC members in good standing, should you have questions regarding your membership please contact angel@culinaryhistorians.ca)
June 2014
J.M. Schneider – "Taste the difference quality makes"
Details: In 1890, J.M. Schneider and his wife, Helena, made the decision to make sausages and sell them door-to-door, and at the local market.  A family-run business empire grew from these humble beginnings. Product diversification, and developments in recipes, brand marketing, and research into new manufacturing methods, along with a dedicated workforce, led to 108 years of successful operations. Join archivist Karen Trussler as she traces the evolution of the iconic Schneider's brand and see select artifacts from the Schneider's archives.
$32 before May 16, $35 after.
Pre-registration is required. Download the JMS registration info (pdf)
Date: Saturday, June 7, 2014
Time: 11 am – 1:30 pm (includes lunch) (doors open at 10:30 am)
Location: Concordia Club, Jägerstrube Room, 429 Ottawa Street South, Kitchener, Ontario
April 2014
Tracing Garlic's Roots
Details: Speech by founder of the Toronto Garlic Festival Peter McClusky. Peter is a garlic grower and is author of a forthcoming book on the history of garlic in Toronto. Bring your questions. Includes garlic refreshments & Laura Slack's garlic-infused caramel truffles! Reservations advised $18 in advance, $20 at the door.
Download Tracing Garlic's Roots flyer  (pdf).
Date: Monday April 7th, 2014.
Time: 7:00pm to 9:00pm
Location: Campbell House Museum, 160 Queen Street West, Toronto (at Osgoode Subway Station, northwest corner of Queen West and University Ave)
March 2014
Artistically Delicious
Details: Celebrating International Women's Day, the McMichael Canadian Art Collection invites the Culinary Historians of Canada together with art historians to take a closer look at the work of Mary Pratt and other female artists exploring the theme of food in their art. Speakers Elizabeth Baird, Liz Driver, and Ruth Sandwell explore the themes of food and kitchen work in Mary Pratt's paintings. A Newfoundland inspired lunch is available in the restaurant. For more information call 905.893.1121 (toll free 1.888.213.1121) or visit www.mcmichael.com. Open to the general public, free with the cost of gallery admission.  
Download Mary Pratt Artistically Delicious flyer (pdf).
Date: Saturday, March 8, 2014
Time: 11:00 a.m. to 12:30 p.m.
 Location: McMichael Canadian Art Collection, McMichael Canadian Art Collection
10365 Islington Avenue
Kleinburg, Ontario, Canada
L0J 1C0
(Islington Avenue north of
Major Mackenzie Drive on the east side)
February 2014
7th Annual "Mad for Marmalade, Crazy for Citrus!"
The Culinary Historians of Canada are excited to partner with Fort York National Historic Site for our seventh annual celebration of marmalade and all things citrus. Enjoy marmalade and citrus themed workshops, lunch, tastings, marketplace, and be sure to enter the Marmalade Competition. Your ticket includes a tour of Fort York.
Admission $45 + tax (before February 7), $50 + tax (after February 7)
Pre-registration required. For more information call 416-392-6907 x225, or to register x221.
Date: Saturday, February 22nd, 2014
Time: 10:00 a.m. to 4:00 p.m.
Location: Fort York National Historic Site, 250 Fort York Boulevard, Toronto
December 2013
The Culinary Historians of Canada Annual General Meeting
We're ready to unveil a revisioned CHC!
Date: Sunday, December 1st, 2013
Time: 11:00 a.m. to 2:00 p.m.
Where: Campbell House Museum, 160 Queen Street West, Toronto (Osgoode Subway Station)
Details: No Cost
THE PROGRAM
UPDATE of the exciting strategic planning, visioning and renewal process undertaken by the CHC board through 2013. Curious? See 2014 CHC Priorities & Volunteer Opportunities for a summary of CHC's proposed new statements, committees and priorities.
Short AGM BUSINESS MEETING, including briefings on great upcoming programs and publications, and updates to our by-laws*. You are entitled to vote by proxy**.
BIENNIAL ELECTION of the executive officers (President, Vice President, Secretary, Treasurer).
All members are encouraged to self-nominate for an executive position or to offer to serve as a committee chair. We also encourage expressions of interest in committee membership.
Contact Secretary Nancy Gyokeres at lewisnl@rogers.com or (416) 487-9529 to register your interest in a position on the rejuvenated Board of Directors and/or Committees.
All members in good standing will be able to vote on motions and in the election.
REFRESHMENTS & SILENT AUCTION OF COOKBOOKS
SHORT AND SNAPPY TALKS by CHC members on their current research topics. A fascinating range of topics you won't want to miss!
Includes Mary F. Williamson on curries in 1900's Victoria, Mya Sangster on her current historic recipe research, Sylvia Lovegren on contributing to the Oxford Encyclopedia of Food and Drink in America, Amy Scott on 19th century meringues, and others.
April 2013
The Culinary Historians of Canada and Pickering Museum Village present
The Pleasures of Pudding – A Cooking Workshop
Date: Saturday, April 7, 2013
Time: 1:00 p.m. to 4:00 p.m.
Where: Redmond House, Pickering Museum Village, 2365 Concession Road 6, Greenwood, ON
Details: Pre-Registration Required.
February 2013
The Culinary Historians of Canada and Fort York National Historic Site present
The 6th Annual
MAD FOR MARMALADE, CRAZY FOR CITRUS!
Date: Saturday, February 23, 2013
Time: 10:00 a.m. to 4:00 p.m. (Registration opens at 9:00 a.m.)
Where: Fort York National Historic Site, 250 Fort York Boulevard, Toronto
Details: Workshops, Speakers, Lunch, Marketplace & Marmalade Competition
Click Here for Registration Flyer
***********************************************************************************
November 2012
Food Will Win the War
Eating for Victory during Canada's Second World War
Date: Wednesday, November 14, 2012
Time: 7:00 p.m.
Where: Campbell House Museum, 160 Queen Street West, Toronto
Details:
In this special lecture, presented a few days after Remembrance Day, Ian Mosby will discuss the importance of food and eating to Canadians' everyday experience of the war on the home front. He will look at some of the different ways in which ordinary Canadians mobilized food to both show their support for the war effort and also to deal with the ever present reality of rationing and shortages. At the same time, he will explore the contradiction between popular memory of the war as a time of austerity and the reality that, throughout the war years, Canadians on the whole were eating more – and better quality ­– food than they ever had before.
Ian Mosby is a postdoctoral fellow in the Department of History at the University of Guelph. He is in the final stages of completing a book manuscript for UBC Press entitled Food Will Win the War: The Politics, Culture, and Science of Food during Canada's Second World War. He is also working on a new research project, tentatively entitled "Engineering Dinner: Postwar Food Technology and the Industrial Transformation of the Canadian Diet." In 2010, he was awarded the Nicolas C. Mullins Award by the Society for the Social Studies of Science for his article "'That Won Ton Soup Headache': The Chinese Restaurant Syndrome, MSG and the Making of American Food, 1968-1980," Social History of Medicine 22, 1 (April 2009). To learn more: www.ianmosby.ca
To view the Canadian wartime recipes prepared for this event, click on the link below:
************************************************************************************
September 2012
2012 AGM and Program
High Tea or Afternoon Tea?
A tasty program for members of the Culinary Historians of Canada and other curious tea drinkers!
Date: Sunday, September 9th, 2012
Time: 2:00 pm – Annual General Meeting, Culinary Historians of Canada – members only
2:45 pm – an auction of "mystery culinary boxes" – all are welcome
3:00 to 4:00 pm – "High Tea or Afternoon Tea?" program – all are welcome
Where: Campbell House Museum, 160 Queen St West, Toronto
Details:
Mary Williamson and Fiona Lucas will discuss, with audience participation, a perplexing etymological question: Should the delicious afternoon ritual of tea and treats be called High Tea or Afternoon Tea? After exploring the various meanings and tea etiquette, we will enjoy refreshing cups of various types of tea with sandwiches and pastries, in the best tradition. A samovar, silver trays, dainty china, and linen serviettes will be de rigueur!
********************************************************************************
July 2012
5th annual Picnic in the County!
Date: Saturday July 21st, 2012
Time: 12 – 3 pm
Where: From the Farm Cooking School
Details:
At this year's annual potluck picnic for CHC members (and their partners and children) we are returning to "From the Farm Cooking School" – about a 2 hour drive from Toronto. CHC member Cynthia Peters runs the school in her 1830's loyalist farmhouse furnished with antiques, including period cooking utensils, a Mennonite wood stove, and professional GE Monogram propane range. Liz Driver is making fruit pies!
Potluck details: Cynthia is supplying the main chicken dish, lemonade, sparkling water, and some local white wine. Compliment the menu with: appetizers, salad, side dish, bread, relishes, or preserves, dessert, fruit or your preferred beverage. Feel free to print your recipe to share it.
***************************************************************************************
February 2012
Culinary Historians of Canada in partnership with Fort York National Historic Site
5th Annual Mad For Marmalade Crazy for Citrus!
Date: Saturday February 25, 2012
Time: 10 am – 4 pm
Where: Fort York National Historic Site, 250 Fort York Blvd, Toronto
Details: Workshops, Citrus Lunch, Marketplace, Marmalade Competition
**********************************************************************************
January 2012
The Culinary Historians of Canada invite you to A Burns Night Scotch Tasting "From Sweet to Peat"
Date: Wednesday, January 25th, 2012
Time: 7 – 10 P.M.
Where: CAMPBELL HOUSE MUSEUM
Details:
Host – Bill Nesbitt
a capella songs by Vine Tuned
Enjoy haggis & tasty Scottish morsels.  Come tip a wee dram & celebrate the Bard.  Don't miss this special & entertaining event.  Join us for a night of Scottish taste, song and wit.
$50 per person
*************************************************************************************
April 2011
CHC in partnership with The University of Guelph
Guelph, Off The Shelf!
Date: Saturday, April 2, 2011
Time: 12 – 4 PM
Where: McLaughlin Library, University of Guelph
Details:
Tour the extraordinary Canadian Culinary Collections featuring 13,000 volumes and manuscripts with Kathryn Harvey, Head of Archival and Special Collections – and a visit to McRae House National Historic Site.
Mad for Marmalade, Crazy for Citrus! (fourth annual)
19 February 2011
Kitchen Tool Magic
13 November 2010
Summer Picnic in Prince Edward County (third annual)
July 24 2010
Talking Food: The Importance of Symposia for Food Culture
7 June 2010
Apron-Mania!
8 May 2010
Mad for Marmalade, Crazy for Citrus! (third annual)
27 February 2010
Sweet Revolutions: the economic and social importance of sugar as food
14 & 17 November 2009
Taste of History!
3 October 2009
Summer Picnic in Prince Edward County
25 July 2009
Play Date for Culinary Historians and Friends
16 June 2009
Tandoori, Shashlyk, and Grouse, Oh My!
The Exotic (Food) World of Expo '67
26 May 2009
Culinary Landmarks: A Conference to Celebrate Elizabeth Driver's Culinary Landmarks: A Bibliography of Canadian Cookbooks, 1825-1949
1-3 May 2009
175 Years of Cakes
6 March, 2009
Marmalade: Contentment in a Jar
21 February 2009
Reading Cookbooks as Sources for the Study of Social History
5 November 2007
Frolics with Food
27 September 2007
Exotic Foods From Home and Afar
10 September 2007
Waterloo County Cookfest
5 May 2007
In Celebration of Edna Staebler
22 February 2007
"Come Again Tomorrow, Whim Wham, and much more for 7s 6d": A Georgian Gentlewoman's Culinary Journey from Charlottetown to Dundee
25 January 2007
Christmas Food in Historic Riverdale
28 November 2006
Recipes from Below Stairs at Dundurn Castle, a Historic Cooking Workshop
21 October 2006
Picnic on the Grand: Exploring Food History at Ruthven Park
19 August 2006
Foods of a French Village
25 May 2006
A Victorian Banquet to Spring
25 April 2006
Community Responses to Changing Foods in Panniqtuuq, Nunavut
13 February 2006
Tavern in the Town: A Look Back at Drinking in Toronto
10 November 2005
Celebrating the Culinary Heritage of Peterborough
and Area
24 September 2005
Biting Satire: Food and Drink in Caricature
2 March 2005
AGM 2004 and 10th Anniversary Bash
11 September 2004
Orange Juice
2 June 2004
Beyond Gingerbread
24 April 2004
The Archaeology of Culinary History Symposium
21 February 2004
Other events
"From Rations to Riesling," symposium at Doon Heritage
Crossroads museum, Kitchener, Ontario
Factory-floor tour of the Redpath Sugar Refinery, Toronto
"Butchering Workshop" in partnership with Joseph Schneider
Haus, Waterloo, Ontario
"Puddings Boiled, Steamed and Baked," symposium in partnership
with Gibson House museum, Toronto
"Exploration of Canadian Cookery Books with Elizabeth Driver,"
a potluck event for CHC members, in partnership with Gibson House
museum, Toronto
Guided tour of the Cambridge Farmers' Market with market board member
and cookbook author Rose Murray
Lectures by Linda M. Ambrose, "Ladies, Please Provide,"
about the surprising meanings of foods prepared for Women's Institute
meetings; Dana McCauley and Rick Archbold, "Last Dinner on the
Titanic: If You Have to Go You Might as Well Have an 11-Course Meal
First"; Patricia Ferguson, "Your Presence is Requested:
The Art of Dining in 18th-Century Europe"; Margaret Fraser, "A
Century of Canadian Home Cooking"; Nathalie Cooke, "How
to Tickle the Palate with a Pen"; Mary F. Williamson, "Of
Course There's More to Cooking Canadian Than Butter Tarts" and "Come Again Tomorrow, Whim Wham, and Much More for 7s 6d: A Georgian Gentlewoman's Culinary Journey from Charlottetown to Dundee";Tina Bates and Phil Dunning, "Beyond Gingerbread and Hot Cider: Food and Drink Interpretation at Montgomery's Inn"; Pierre Laszlo, "Orange Juice: Invention, Production, Imitation" and "Foods
of a French Village; Kathy Lochnan, "Biting Satire: Food and Drink in Caricature"; Craig Heron, "Tavern in the Town: A Look Back at Drinking in Toronto"; Lynette Hunter, "Community Responses to Changing Foods in Panniqtuuq, Nunavut"; Elizabeth Driver, "Christmas Food in Historic Riverdale" Mary F. Williamson, "Come Again Tomorrow, Whim Wham, and much more for 7s 6d: A Georgian Gentlewoman's Culinary Journey from Charlottetown to Dundee," a lecture about Catherine Dalgairns and her Practice of Cookery; Carrie Herzog, "In Celebration of Edna Staebler"; Dorothy Duncan, "Canadian Food from an Advocate's Perspective"; Dr Massimo Marconi, lecture about the rare Kopi Luwak coffee from Indonesia; Fiona Lucas and Mary F. Williamson, "Frolics with Food: The Frugal Housewife's Manual by A.B., of Grimsby"; Nathalie Cooke, "Contraband and Controversy: The Fight for Spread for Our Bread," about the margarine wars in Canada
Panel discussions at Northern Bounty V, the Cuisine Canada conference
in Guelph, Ontario, on "How Have Immigrants Influenced Canadian
Cooking?" and "When Does an Imported Ingredient Become a
Canadian Ingredient?"
Behind-the-scenes visit to the University of Guelph Culinary Collections
Advance tour of the 1832 Gooderham and Worts whiskey distillery
site in Toronto, before it reopened as a premiere cultural centre
Christmas Cookie Exchanges, featuring presentations about cookie
histories